Hello MUW,
As continuation to the previous bulks, here's the third bulk!
Introducing 3 new awesome designs! Be the first ones to label your beloved equipments with these new designs!
Best part of all - price remains the same at
RM55 per A4 Sheet
!
T1

- Classic Plain Background

T2

- Classic Black Background

T3

- Large Plain Background

T4

- Large Black Background

T5

- Digical Camo Stealth ***

NEW

***

T6

- Digital Camo Navy ***

NEW

***

T7

- Large Kitty Scuba ***

NEW

***
Adhesive Material
: 3M 610 Adhesives - weatherproof, tested and proven by many!
Works
BEST
on: smooth, solid, hard areas i.e. metal, plastics, etc.
NOT
recommended on: soft, flexible, fibres, rubbery areas i.e. cloth, neoprenes, silicon, rubber, etc.
*Click the thumbnails below for higher resolution image*
|
Link to Image Gallery
↓↓↓

NEW

↓↓↓

NEW

↓↓↓

NEW

↓↓↓

NEW

↓↓↓

NEW

↓↓↓
Measurements and Quantity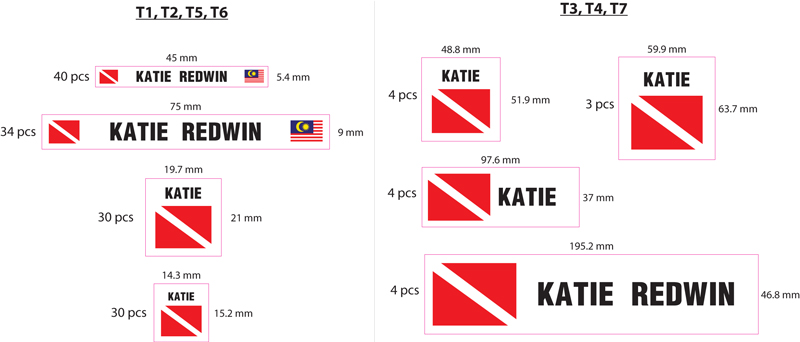 To order, please PM me with the following details:
Code: Select all

Dive Sticker - Order Template (PM me!)
Name:
Contact Number:
Email Address:
Design & Quantity: [Example: 1. T5 - 2pcs ..... 2. T6 - 4pcs)

Long Name: [Max 16 characters, including spaces]
Short Name: [Max 6 characters, including spaces]

PosLaju: [West Malaysia - RM6 / East Malaysia - RM8]
Contact Details
Mobile: 017 661 7682 (SMS/Whatsapp me!)
Email:
jakesean@gmail.com
Terms & Conditions
1. These stickers comes in a whole A4, uncut sheet. You will need to manually cut them into individual stickers.
- Reason for this is so that we could get it at this affordable price.
- Pre-cut stickers are available elsewhere (not done by myself), and at a much higher price..
2. Fonts are standardised to
LARGE, CAPITAL LETTERS
.
3. Pick Up Location: Only in
Cyberjaya
or
Puchong
4. No deposit/payment required when placing an order!
5. Payments will only be collected once there are 20 pcs in the list.
ORDER LIST - **Updated Frequently here!**