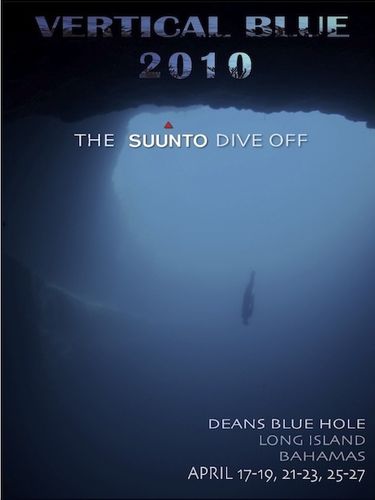 Vertical Blue 2010 - The Suunto Dive-Off
Location:
Dean's Blue Hole, Bahamas
[Google maps]
Dates: April 17-27 (excluding 20th & 24th)
Disciplines:
CWT, CNF & FIM
Organizer:
William Trubridge
Safety system: Counterballast rig (same as AIDA WC 2009).
Judges: Grant Graves, Linden Wolbert
Male athletes:
*
Alfredo Romo (MEX)
* Dave Mullins (NZL)
* Eric Fattah (CAN)
*
Guillaume Nery (FRA)
*
Herbert Nitsch (AUT)
* Jared Schmelzer (USA)
* Robert King (USA)
*
Ryuzo Shinomiya (JPN)
*
Walter Steyn (AUS)
*
William Trubridge (NZL)
* William Winram (CAN)
Female athletes:
* Carla-Sue Hanson (USA)
*
Carolina Schrappe (BRA)
*
Misuzu Hirai (JPN)
* Niki Roderick (NZL)
Vertical Blue, the globe's premier freediving invitational competition which begins on April 17, 2010 at Dean's Blue Hole, Bahamas, is set to determine the world's best all-round freediver with new a Suunto Dive-Off competition.
Vertical Blue begins on April 17, 2010 at Dean's Blue Hole, Bahamas.Hosted at the 203m deep Dean's Hole in the Bahamas, 15 of the best freedivers from nine nations will attempt to reach new depths in three different disciplines. The athletes can earn up to 100 points in each discipline, depending on the ratio of their best performance compared to the best dive in the event. The athlete with the most points at the end of the competition is crowned Suunto Dive-Off champion.
Vertical Blue has a history of record breaking. A total of five new world and 30 national records were set at the 2009 event. With the addition of the Suunto Dive-Off, more record-breaking dives are expected at the competition, which runs until April 27 (read more...
[1]
&
[2]
).