Just back from diving there.
Did 8 dives.
Average depth 10m.
yaa you might say "aper barang shallow dive" but for me mean longer bottom time without nitrox and no deco.
did the dive with Coco Dive runs by mat salleh Asst Mngr Ros Kelly, guides are racheal and Jack.
pros about coco dive
-guesthouse,restaurant,dive shop all in one building
-they tied a tank with reg at 5m depth for deep diving and more than 18m for them consider as deep diving
-they have oxygen tank on board purchase from DAN.
-they always think about safety
-very near to the mall but had to walk around 10min or so.Got starbucks, CBTL and cinema.
cons about coco dive
-15-20min ride in a van from guesthouse to the jetty
-more than 45min ride on speedboat to get to the deeper site. Make sure you go to toilet bfr getting on the boat. The boat dont have one.
-for peninsular divers might feel as if coco dive operating to slow and uncoordinate.
How slow? We peninsular diver prefer dive at 8am. The dive there start around 9.30am and when i say start dive is when we start to dive into the water
-they prefer divers to stay at the surface until all divers in the water. Imagine choppy waters. I really hate that.
-abort the dives due to bad wheather. Some of the MUWian has dived in miri and had experienced their trip been canceled at the last minute. After i dived there it
seems i understand why they did that. I dived in Padang before and diving Padang is a lot similiar to diving Miri the only different Padang has a lot of tiny island to
take refuge from the strong wind but in Miri there arent any. The place is not like tenggol,tioman, where many boats come and goes. If the sea is too choppy or the sky have lightning , they will cancel the trip or maybe they are just unexperience with the wheather?
Diving in Miri is like diving in the west coast of malaysia like langkawi,pulau sembilan,tukun perak. Its green with poor to mild viz for the shallow dive sites and good
for the deeper sites with blue visibility. U will be in bad luck if the town of Miri hit by rain cause the viz wil be very very poor like diving in Port Dickson.
Eventhough my dives there most of it should i say 5 out 8 with poor to mild viz , i just snap my camera away and thank god almost 400+ of pix made it to wonderful scenary but sorry couldn't share all of it in this link. i really admire the coral formation there.
for nudilover divers i can suggest Eve's garden. Those things just stand out with their vibrant colors.
I havent seen frogfish. They might be hiding somewhere. Another thing i dont think the dive center will be doing any night dives there unless
they are conducting LOB with bigger boats. im sure those frogfish come out at night
sunday reef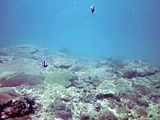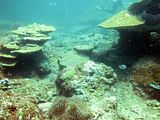 siwa reef
these pix taken at depth 15m. This site around 4km long. To the south of the reef deep till 17m reach sandy sand with lots of whipcorals.
Anemone Garden
Atago Maru Wreck
Depth was only 13m with the top of the wreck around 7m. long around 100m. The viz was bad,bad coz after heavy rain.
Eve's Garden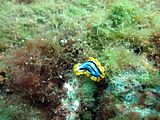 Santak Reef
The farther site. Viz blue. Manage to find a single bumphead tried to snap but it kinda swimaway. Found camel shrimp and glass shrimp on a big rock. Great Giant Seafan. I didnt wear any wetsuit. Thought it was as warm as those shallow site. Wrong!!. My DC drop 2degree over here. I showed the guide i was about 8min
to deco and guess what the guide signaled" wait till 5min to deco then we go up". Fuh i like.
Keyalang Oil Rig
This is actually a wreck of oil rig cut and then sank turn into an artifical reef.
Looks like an A form.
Under the wreck
the wreck from above
pay attention to the algea on wreck and you can find lots of nudi.
Grace Ginger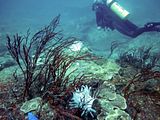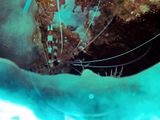 most of the dive sites with rocks will find these banded shrimps.
There are still alot of unexplore sites, Even when i was in the plane i could see from above patches of corals.
My total damage 8 dives with 3days of diving = RM850 include hostel dorm,food. Exclude gears.
AA flight = RM260